Follow @HendrikRonald
Terbaik Di Dunia?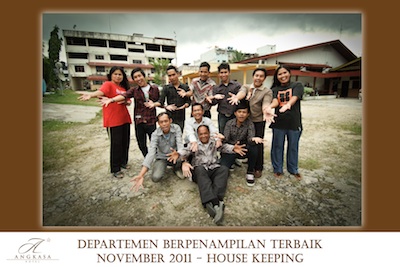 Waktu itu saya sedang berada di garbarata mau naik ke pesawat. Biasanya saya suka memilih naik terakhir ke pesawat. Saat para penumpang sudah pada duduk semua dan tidak perlu antri lagi, barulah saya masuk. Sehingga saya bisa lebih nyaman tanpa desak-desakan. Nah, kegiatan wajib saya saat menunggu di garbarata adalah membaca di Kindle kesayangan.
Saya langsung tertawa saat membaca buku Business Coaching dari Brad Sugars. Kurang lebih di situ tertulis, "Ada dua cara untuk menaikkan profit. Yang pertama adalah meningkatkan pendapatan. Yang kedua adalah mengurangi pengeluaran. Cara yang pertama adalah cara yang lebih bagus. Namun cara yang kedua adalah yang lebih sering ditempuh oleh pengusaha."
Saya langsung tertawa. Suatu ironi yang tepat sekali. Bahkan saya terpikir ironi yang lebih pahit lagi, bukan hanya mengurangi pengeluaran, para pengusaha sering kali mengurangi pemasukan juga!
Di kota saya, ada promo hotel yang kurang lebih bunyinya seperti ini, "Menginap 2 malam, bayar 1 malam." Sungguh saya trenyuh. Ini akan membuat hotel tersebut semakin tidak mampu bersaing.
Saya sendiri sampai 2 tahun yang lalu masih aktif mengurus hotel. Sebuah hotel bintang 1, yang bahkan tembok samping dan belakangnya tidak ada! Saat hotel bintang 1 bertembok lainnya menjual kamar dengan harga 100 ribuan, saya malah menjual kamar sampai Rp.575.000 dan masih laku!
Di saat malam tahun baru, harga kamar saya bisa naik sampai Rp.800.000! Yang lebih menariknya, semua kamar saya sudah SOLD OUT sebelum jam 4 sore. Sehingga praktis staff yang masuk sore dan malam hanya menolak tamu saja. Kamar kami termasuk yang paling cepat habis di antara hotel lainnya! Di saat-saat itu kami bisa menolak lebih dari 200 tamu.
Bagaimana mungkin sebuah hotel bintang 1 yang sudah berumur 25 tahun; karpetnya sudah menghitam; cat pegangan tangganya sudah terkelupas; diremehkan oleh saingan; tembok samping dan belakangnya tidak ada bisa melakukan semua itu?
Kami berhasil lepas dari perang harga dan setiap tahun occupancy malah meningkat. Bagaimana mungkin?
Begini, berhentilah memandang harga sebagai harga. Pandanglah harga sebagai value. Value adalah nilai yang dirasakan oleh customer saat dia membayarkan. Orang akan membayar lebih tinggi bila memang value-nya sesuai.
Nah, 'sihir' apa yang sebenarnya saya lakukan di hotel itu?
Kita nantikan di sambungannya yah!
Salam Dahsyat!
Anda boleh menggunakan artikel ini di newsletter, website atau publikasi, dengan syarat tetap melampirkan kalimat lengkap di bawah dengan link aktif ke website:
Copyright, Hendrik Ronald. Digunakan dengan izin. Hendrik Ronald adalah Trainer dan Coach Service Excellence. Untuk mendapatkan pelatihan dan artikel lainnya, silakan kunjungi www.HendrikRonald.com
Comments
comments
Follow @HendrikRonald
Testimonies
Pak Ronald memang sangat Konsisten!
You are the one and the only one. Truly the Best! Dahsyat!
Tung Desem Waringin - Pelatih Sukses No. 1 di Indonesia

You are among the VERY BEST!!
Best Wishes!
Ron Kaufman - World's No.1 Educator for Customer Service & Uplifting Service Culture
Pak Ronald termasuk sebagai pembicara / trainer yang sangat profesional & bisa saya sejajarkan atau bahkan lebih baik dari trainer-trainer lain yang pernah saya ikuti seperti James Gwee, Rhenald Khasali, Mario Teguh. Salut dan selamat buat Pak Ronald. SUKSES!!"
Yoyok - Area Promotion - PT. So Good Food
Mantap! Setelah ikuti workshop-nya Pak Ronald, omset Megakom Group naik tajam. Thank you, Pak Ronald.
Janta - Owner Megakom Group
(Jaringan toko komputer terbesar se-Riau)
Bapak Ronald memiliki pengalaman yang sangat luas di dunia service dan kami menilai Bapak Ronald sangat expert"
Haris Sumarwoto - COO Muncul Group (Importir dan distributor mesin photo copy rekondisi terbesar di Indonesia)
Nama Hendrik Ronald tercatat abadi sebagai salah satu yang paling berpengaruh dalam perkembangan Rumah Warna.
Nanang SZ - Owner Rumah Warna (Franchise Fashion Terbesar di Indonesia)
Pelatihan sejenis sudah sering saya ikuti tapi yang ini sungguh berbeda. Nyaris 40 jam tanpa tidur tapi semua peserta segar bugar, happy dan antusias mempraktekkan semua yang tengah dipelajari. Thank P.Ronald, Indonesia memerlukan lebih banyak lagi sepertimu
Tukiyo - Direktur PT SCG
Penulis Buku 'Revolusi Karier' - Cara Mudah Dapat Kerjaaan Gampang Naik Jabatan
Recent Tweets
@boxaid The biggest one is our new demo importer with several demo websites ready to import in one click. Also a new navigation style :)
5 days ago

Highend 2.0 is almost ready! We are so excited about all the awesome features in the upcoming update. Stay tuned...

1 week ago
Follow @HBThemes